Black Ink Update! (0.301)
Hello everyone and happy new year!
We're very glad to announce a new major update for Black Ink!
This update is very important as it offers brand new tools that will expand even more the field of brush creation.
It took a lot of time and effort to integrate these new powerful tools, while ensuring the continuity of performance and comfort you have always been used to experience with previous versions of Black Ink.
This is why we hope that you will like using it as much as we liked making it.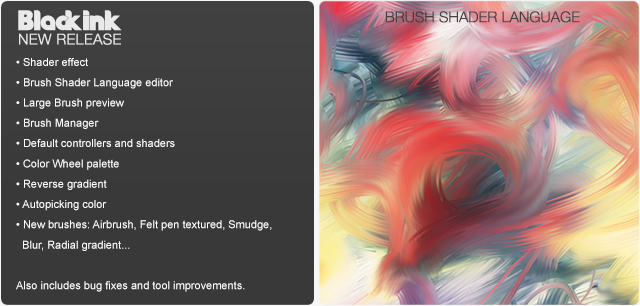 You can now apply any type of effect on your brush like smudge, blur, procedural shapes, textures, shadows, relief, gradients, etc. These effects are fully editable within Black Ink thanks to a new dedicated language called BSL ( Brush Shader Language )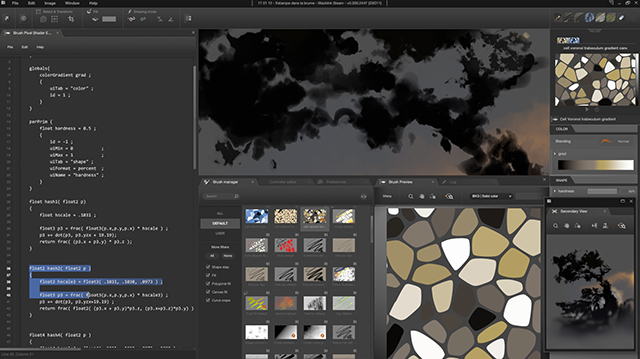 You can already access the video presentation for this update
For more details about these features and the bug fixes for this version, you will find the complete release notes here.

We would also like to thank you for your patience, we didn't want to release this version too early.
Keep in mind that we're developing Black Ink with the intent of bringing you a complete and powerful generative art creation software/solution that will, hopefully, leave its mark in the future.
Note the demo version allows you to test Black Ink for 4 hours without any limitation.
In the months to come, we will integrate UI scaling so Black Ink can be used on 4K screens. We will also add support for more layers and, of course, plenty of new brushes with even better effects.
See you soon
Bleank Team
- 2017 / 02 / 01 -
Product
-