BLACK INK 2020 is out!
Dear Black Ink users,

It's been a long time coming but we are finally ready and happy to announce the release of Black Ink 2020!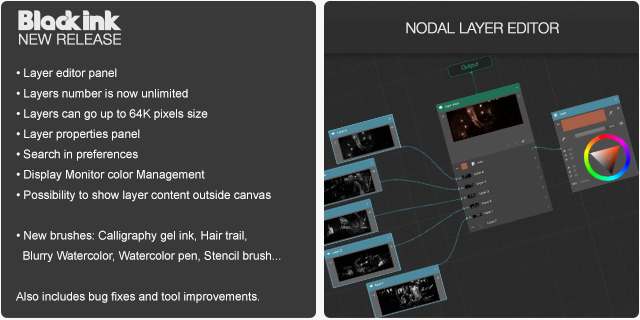 This new version introduces a whole lot of new features, the biggest of them being the brand new layer editor.
Not only will you be able to handle more layers but also discover and leverage a completely new and innovative nodal system, in line with our procedural philosophy.
We propose a combination of layer stack and nodes to give you a powerful non-destructive solution while maintaining ease of use.



You are going to discover an entirely new way of managing your layers that will give you more flexibility, freedom and new possibilities for your creations!


We are very sorry for the long wait but we embarked on a huge endeavour with this feature and couldn't stop until we were able to give you the best experience we can. Our independence and small team are what keep this passion alive and we really hope you can see how much care we put in this huge update.

If you already own Black Ink you will get this update for free, as we committed to.

In order to maintain this fair licensing plan and still develop our dream software, we are going to launch a Patreon campaign soon to enable those willing to support us a little bit further. So if you're interested or know someone who might be, you can spread the word and help us making the best, ground-breaking, innovative digital painting software on the market!


If you would like to know more about this update, please visit this page.
Video tutorials will follow but we put some documentation about the new layer editor here.
You are welcome to give your feedback and come discuss on:

Discord
Steam
Bleank Forum


See you soon and we wish you a Merry Christmas and a Happy New Year
On your stylus... ready, set... Draw!
- 2019 / 12 / 17 -
Product
-